In a posting the other day, I mentioned that I don't bother with anything the BBC puts out unless I am consciously studying what they are getting up to. Partly, of course, this is because I'm simply not interested in anything that an elite-serving propaganda outlet wishes me to pay attention to; but to a considerable extent, it's also because I cannot stand to be in the presence of so much dishonesty and manipulation. To be totally frank, I just can't bear it.
This morning, though, I decided to get out my trusty reporter's notebook once again and force myself to sit through some of BBC1's 'Andrew Marr Show' with the intention of analysing two of the interviews. Specifically, I wanted to compare Marr's treatment of Diane Abbott with his treatment of Jeremy Hunt: would our journalist-impersonator do his usual trick of holding a powerless opposition politician fiercely to account … while allowing someone from the government to roll out an endless succession of lies and smears without the slightest challenge or interruption? I wanted to know the answer…
As it happens, though, I didn't get to that bit: after the first few minutes I just couldn't make myself watch any more — so I went out … and actually arrived at work early for once.
The thing is, you see, that when you become aware of what they're doing and how they're doing it, you discover that they never stop doing it: everywhere you look, you find them at it. And watching them do it, over and over again, day after day, on every one of their platforms — television, radio, internet — isn't just tiresome, but actually becomes quite sickening.
As you yourself are about to find out — because what I'm going to do here is expose one of their favourite techniques, in fact the very one that Marr used at the point where I decided to stop watching. Once we've been through it, you'll have no problem spotting it in the future — and I'll leave you alone to observe where and how it is being employed in the things you see, hear and read…
Now, if we're going to study a technique, then we ought to have a meaningful name for it. Let's call this one "You've Been Framed!"
To introduce it, I want to suggest a simple thought experiment…
Suppose I was presenting my own TV news and current affairs show — yes, I know: that's something of a stretch — and had to introduce Andrew Marr as a guest on the programme. And suppose also that I introduced him in the following way:
"And at this point I am delighted to welcome to the studio the famous adulterer Andrew Marr…"
Such an introduction would, of course, be considered quite outrageous, and I would be sacked at once. Needless to say, the fact that there isn't anything remotely unfactual about that description (news story here) wouldn't be considered any kind of defence. For a start, one is not supposed to be so tactless and impolite in public — even (or should that be 'especially'?) when dealing with one of the ruling class's media trustys. (And, as trustys go, Marr is evidently one of the most trusted: the BBC pays him a salary of £400,475 p.a. for his ability to look and sound just like someone who should be taken seriously.)
More importantly, though, it would widely be felt that my introducing him as an adulterer would tend to lead people to look at him in a more unfavourable light than would otherwise have been the case. Or, to use the media analysis term, the problem would be that I was framing him in a way that would cause viewers to feel more judgemental towards him and perhaps more sceptical about anything he went on to say.  I mean, just imagine the viewers at home: "After all, he couldn't even be honest with his wife, could he? Think of all those months and years of lies and evasions! And what about all the money for that super-injunction: where did that come from, eh? Did he also have some kind of infidelity slush-fund his wife didn't know about…?", etc.
Now let's extend our thought experiment just a little. Suppose that on my immensely improbable TV news and current affairs show I actually had to introduce two guests — one of them being Andrew Marr, and the other one being someone (I can't think of a name) who was just as much of a famous adulterer as he. And suppose also that, on this imaginary occasion, I chose to frame Marr as the famous adulterer that he is — but in introducing the other adulterous guest, I didn't use the term at all, and didn't make any reference to anything else in that other person's seedy private life…
In this case, the outrage would be even greater. People would think — quite rightly! — that I was being grossly unfair to Marr in foregrounding his famous adultery, reminding everyone about it while quietly airbrushing out of sight the equally famous adultery of the other guest. Indeed, in a 'head to head' news and current affairs discussion setting, this would be universally recognised as constituting the most naked bias — as it could only have the effect of undermining Marr relative to that other guest, someone equally culpable but now quietly whitewashed. If I did this, I'd not only be sacked, but also pilloried across the nation for the shamelessness with which I'd tried to problematise one contributor and sanitise the other.
End of thought experiment. Keep reading to see why it is relevant.
Now, why did I stop watching this morning's 'Andrew Marr Show' within — literally! — a few minutes of it starting…?
Answer: because we weren't even two minutes in when Marr, in his 'trail' for a forthcoming segment, said this…
Reviewing the news, the Corbyn-supporting 'Guardian' columnist Owen Jones and the author and commentator Isabel Oakeshott — all of that coming up after the news, here read by  [etc]."
You're probably ahead of me by this point — which means that I really ought to emphasise that I myself have no regard whatsoever for Owen Jones, and I am not writing this posting as any kind of defence of him: as far as I'm concerned, he's no better than the other media gatekeepers shown in the picture above. What concerns me here is Marr's (and the BBC's) bias and manipulation — as manifested in this little episode of You've Been Framed!
For, as you will have seen, there was no parity at all between the way Marr framed Jones ('Corbyn-supporting Guardian columnist') and the way he framed Oakeshott ('author and commentator'). The difference between the two introductions — and the reason behind it — will take a little while to elucidate; let's start with our 'author and commentator'.
In case someone doesn't remember who she is, or hasn't seen her before, here she is in action, and with no comment from me…
So, who is this Isabel Euphemia Oakeshott?
Well, she was born in 1974 (that's ten years before Owen Jones); is sometimes described as 'the daughter of a lord' (though, so far, I cannot confirm that); was sent to Gordonstoun School (fees currently £36,909 p.a. for those who turn up to do A-levels as boarders), and graduated from a prestigious Russell Group university (Bristol) in 1996.
In what seems to have been her most recent salaried media role, she spent a year or so (2016-17) as 'political editor-at-large' at Britain's leading hate comic, the Daily Mail (her second stint at the paper). Before that, she worked for eight years at the Murdoch-owned Sunday Times as 'deputy political editor' and 'political editor'. This followed three years at the Evening Standard — in those days still in the sty, I mean the stable of Lord Rothermere's Associated Newspapers, owners of the Daily Mail — and, prior to that, she did her first stint at that hateful rag. (That gets us back to 2003 or thereabouts, which I think is far enough.) Note, then, that every one of those papers is a tax-dodging billionaire's propaganda toy; every one of them has an obtrusively right-wing political orientation; and every one of them supports the Conservatives — yet somehow it was Owen Jones alone whose 'framing' introduction named a newspaper that signalled a political orientation: he was a 'Guardian columnist', remember — while Oakeshott was simply an 'author and commentator'.
Note, in addition, that Oakeshott — who is third cousin to investment banker and 'life peer' Matthew Oakeshott, 'Baron Oakeshott of Seagrove Bay' — has also co-authored a biography of David Cameron (in whose constituency she lives as a literal member of the 'Chipping Norton Set' of media-political insiders), and has assisted in the writing of a book called Inside Out: my story of betrayal and cowardice at the heart of New Labour. On top of this, she has contributed to the website Conservative Home; and in her 'social media' postings comes across as just as much of a rabid Tory Brexiteer market-worshipping supporter of Theresa May as she does in her personal appearances on Sky News and shows like the BBC's 'Daily/Sunday Politics' and 'Question Time' … yet, once again, it was Jones alone who was 'framed' in terms of a specific party allegiance by way of support for a specific leader: he was 'Corbyn-supporting', you will recall — while Oakeshott was, again, simply an 'author and commentator'.
Nor does it end there, much as one might wish it to. For if you know your media gatekeepers like you should, you'll be aware that describing Owen Jones as 'Corbyn-supporting' is a grotesque over-simplification of reality. The truth — and it's not at all pretty — is that Jones the shameless left-leaning careerist had his Establishment-insider knife in Corbyn right up until a few months ago, along with just about everyone else at the supposedly 'left of centre' (hohoho!) Guardian. (I'm not going to spend time digging up the pestiferous nonsense Jones was spreading through all sorts of media outlets — but you can click here to see a thoughtful analysis of this output, and here for a convenient selection of quotes from it.)
If Marr had wanted to be strictly accurate, then, he should have introduced Jones as "Guardian columnist and suddenly converted Corbyn-supporter" — which, of course, wouldn't have sounded at all good.  Which doesn't mean that he was concerned to paint Owen Jones in a positive light. Quite the opposite, in fact. For in describing Jones as 'Corbyn-supporting' while failing to describe Oakeshott as 'a supporter of Theresa May' (or of Boris Johnson, which she also is), Marr was actually attempting to undermine Jones and his contribution.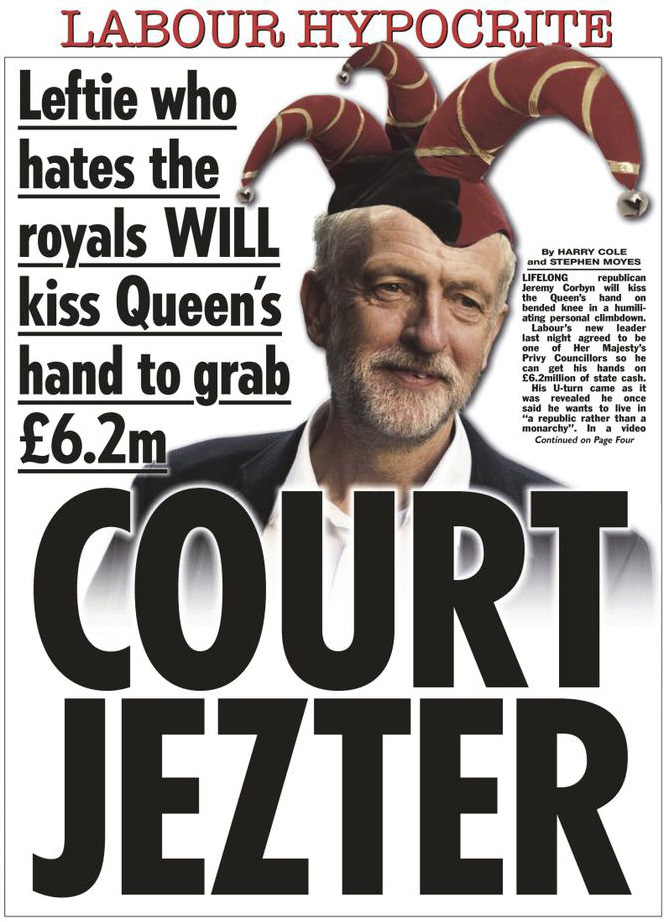 The way this works, you see, is that our state-corporate media — all of it run in the service of concentrated private capital and the neoliberal economics that concentrates it — has succeeded in giving tens of millions of essentially dispossessed and disenfranchised people the idea that for a political party to be led by someone like Corbyn is 'a massive problem' for nation and party alike, since he is 'someone with extreme views', 'unelectable', 'a danger', 'a liability' — or, as you just heard Oakeshott describe him — 'a clown'. Thus is a mild social democrat made to seem frightening and ridiculous at the same time — and thereby toxified in the minds of half the electorate. And thus it is that obtrusive mention of Owen Jones's (current) support for Corbyn is nothing but a stick with which to beat Jones — a signal to viewers that whatever he is about to say will be so loaded with 'hard left Corbynite bias' as to be not worth listening to. Whereas Oakeshott, on the other hand, is simply an 'author and commentator' — and  can thus be relied upon to deliver nothing except profound good sense.
Likewise that obtrusive and un-balanced reference to Jones being a 'Guardian columnist'. You and I may know perfectly well that, behind its affected 'concern', the Guardian is as devoted to our elite's globalised imperialism and neoliberal larceny as any rag we currently find on sale — but to the average viewer, 'writing a Guardian column' marks someone out as occupying an ideological niche at the leftmost extreme of our 'mainstream media spectrum'.
See how it all works?
Andrew Marr, you know, is a pretty dim bulb in many respects — and deeply unimpressive in quite a few others — but, boy, does he know how to toxify! With those five words — just eleven syllables! — and before the segment had even begun, he cut Jones off at the knees.
By this point, I daresay everyone will have seen the reason for our earlier 'thought experiment': while, as we saw, there are certainly broadcasting contexts in which a media host who chose to frame two similar guests in radically dissimilar ways would cause outrage if he or she used disallowed means to undermine one and exalt the other, the remarkable fact is that no such problems attend the use of that same technique by a high-ranking BBC insider who paints a guest with a right-wing orientation as an intelligent, literate person ("author") who is interested in what's going on ("commentator") — and a guest with a left-wing orientation as clearly biased ("Guardian columnist") and a bit weird ("Corbyn-supporting").
It's worth pointing out, of course, that this technique is absolutely standard, right across the 'sternly impartial' BBC's output: it's not just the unlovely Andrew Marr who utilises it. So why was I particularly sensitive to it this morning? There is a reason — and I'll tell you what it is.
At this particular moment, there is a major news story threatening to break concerning the culture of sexual harassment, exploitation and abuse that apparently exists in and around Parliament. Most shockingly (though not at all surprisingly), literally dozens of Conservative figures are accused of being serial 'sex pests' who target professional and social inferiors working in that setting. It is not at all impossible that this scandal could bring down Theresa May's tottering Tory government — thereby risking some degree of inconvenience to all those who are engaged in the ongoing elite project of 'Rob the place, and run'. If you think I'm exaggerating, have a look at some of the stuff that is trying to emerge — in an elite-serving media that doesn't really want it to…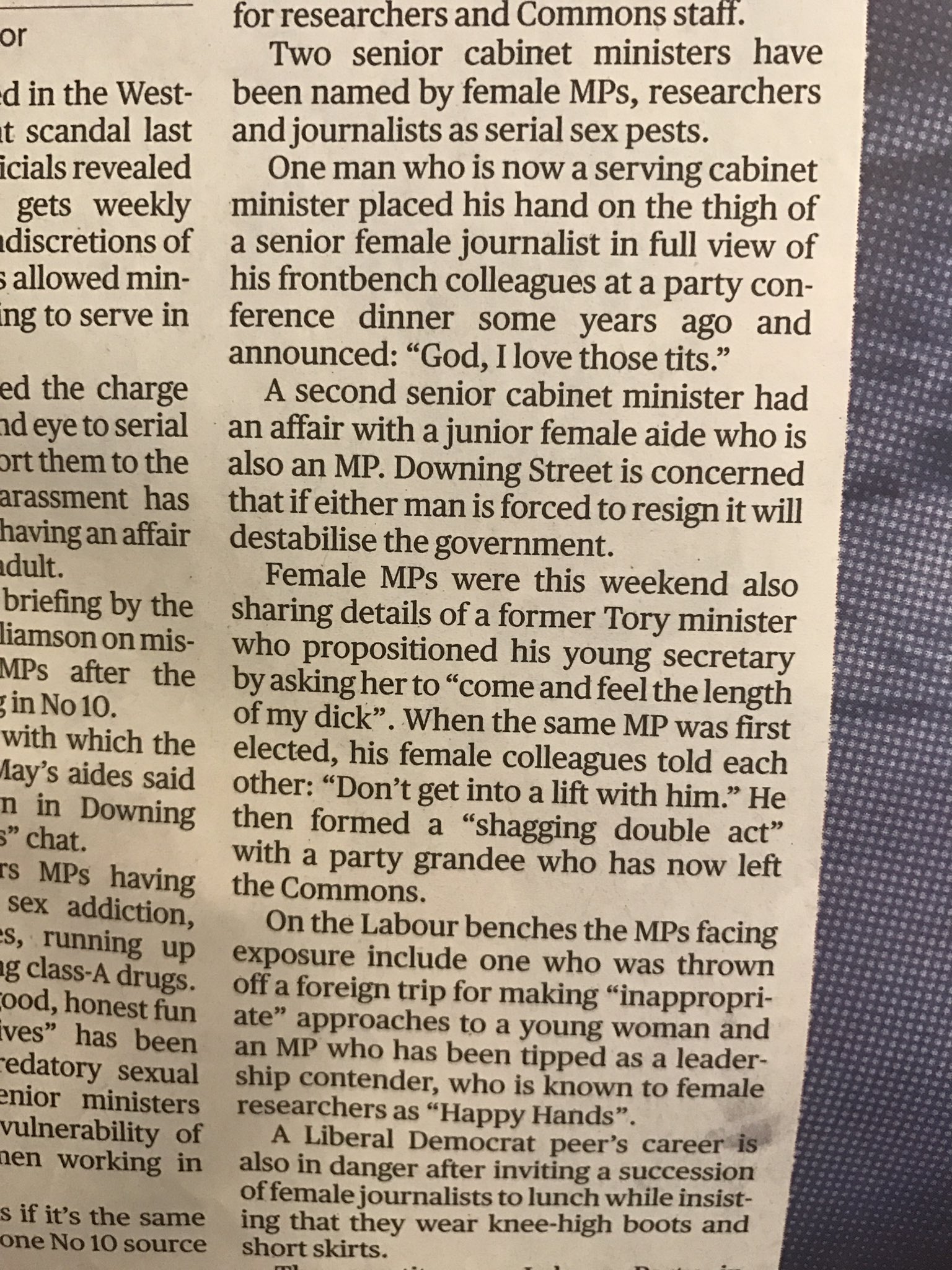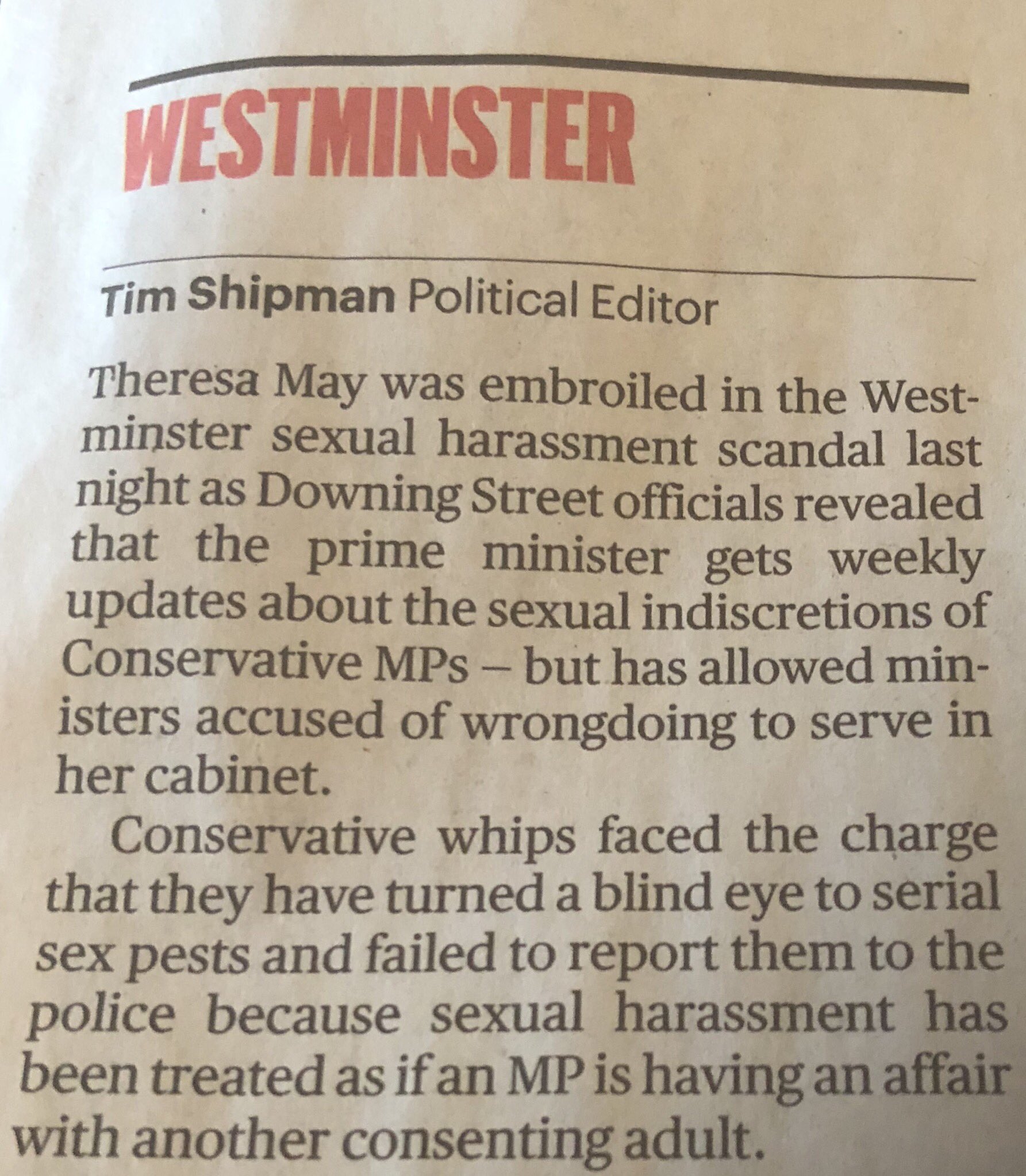 It may even be true that the Tories have been keeping a secret list of exactly who gets up to precisely what: the following item (heavily redacted to conceal everyone's identity) is allegedly a leaked internal document…
Now, there are BBC news-replacement streams that will be able to 'blank' this story entirely — especially if they're on the radio or the internet. Andrew Marr, however, can't really ignore it: he has a studio camera pointing at a bunch of the day's newspapers — and, today, several of them have some version of this story on the front page.
What does he do? He does this…
He books Isabel Oakeshott — who, you may be aware, has never appeared on this show before, regularly though she features on the Sunday Politics a couple of hours later. Why her? Because, 18 months ago, she went into print to tell the nation that behaviour which you and I would consider inappropriate at the very least is something of no real significance and can easily be brushed aside: Oakeshott can, therefore, be relied upon to talk down today's breaking story as just some storm-in-a-teacup triviality that is being exploited by eggshell personalities and people who wish to harm the Conservatives. Obviously, though, this defensive tactic will not work properly if the audience knows that she herself is actually a rabid Tory — so Marr comes up with an introduction which, by presenting her as simply 'author and commentator', prevents her looking like the Conservative damage-limitation tool she really is.
And Jones? Well, you can see now why it was that Marr chose him: what other columnist could have been introduced with such obtrusive highlighting of both a pro-Corbyn stance and a Guardian contract? And by emphatically framing Jones not merely as the sort of stereotypical 'Guardian leftist' who would be bound to go overboard on 'the whole feminist, sexual politics, womens' rights thing', but also as someone with a specific Labour Party allegiance that would undoubtedly see him 'milking to death' anything that could be used to damage the Tories, Marr had practically guaranteed that nothing at all that could inconvenience elite power would emerge during that discussion: before it even started, the audience was being immunised against it.
And that's why I stopped watching. And I do want to stress that when I say I stopped watching after two minutes, I'm not exaggerating. I did not see a single second of the discussion.

Because I didn't need to, did I…?
Right: off you go. You are now qualified to diagnose for yourself any and all examples of media bias that rest upon the technique of manipulatively unbalanced framing. If you want to watch that Marr programme, you'll find it here for the next several weeks.
And if you do watch it, tell me if my prediction about what happened in the Jones-Oakeshott segment was correct — and whether a comparison of Abbott's interview with Hunt's reveals what I expected it to.
Did I get anything wrong? Or am I really as good as I think I am?
MD
—
If you've enjoyed reading this or another posting, please consider making an anonymised micro-donation in return! Micro-donation — 50p, 50c, whatever — is the way to sponsor the creation of quality content outside the control of corporate-owned and power-serving media structures. To micro-donate to me, with guaranteed anonymity, simply click on the button… Thanks!