Dunno if anyone will be interested in this; but I think it might be fun to do a bit of 'time travel' on this bright but cold December afternoon. No, there's no special reason — except that I've just seen a nice online scan of an old Carnegie Hall concert programme, and I happen to have some good coffee on the go, so why not?
You see, there I was, preparing to hunt about on the interwebs for clues about the imaginary Tesco branch I wrote about in my last posting — you remember: the store supposedly stuffed with Polish comestibles in frankly offensive quantities — and I just happened to see an unconnected message that contai…
What? You want to know about my search for a Tesco branch with 'two whole aisles given over to Polish food'? Do you? Really?
Well, okay. Since you ask, I can report that there's been no reply from the BBC's Mark Easton. So no surprise there. (The BBC's pseudo-journalists are 'hit and run': they're not accountable to the people they mislead, least of all in public.) And while the Tesco online enquiry folks have all been very nice, I still haven't been able to get through to them that I'm not looking for a branch local to me. Ho hum.
On the other hand, my getting on the phone and ringing up the largest Tesco stores 'in the true blue Cotswolds' has produced some interesting results. From one of the branches, I heard that they have 'just a few shelves' of Polish food; from another I learned that their stock took up 'about half of one side of one aisle'. Now, while that amount is probably more than enough to have a Cotswold Tory's eyes bulging out of his hate-filled head, it ought to be remembered that what we are looking for are 'two whole aisles given over to Polish food'. What's more, since the lady I spoke to in that particular branch told me it has 32 aisles in all, one half of one side of one of them is … a percentage so small that I can't even be bothered to calculate it.
As for my own local Tesco, I popped in yesterday afternoon — to discover that the Polish part of its 'international food' section contained precisely one four-foot 'mod' (supermarket lingo!) with eight shelves. The entire aisle, though, is one that has 16 mods down each side — and, if you want a bit of scale, I can report that this same Tesco branch sees fit to devote no fewer than 10 mods — that's 40 feet of shelving units! — to cat food alone.
Right. Can we get back to music now…?
The thing is that someone had uploaded, just for fun, the following page from an American concert programme that dates back more than 80 years…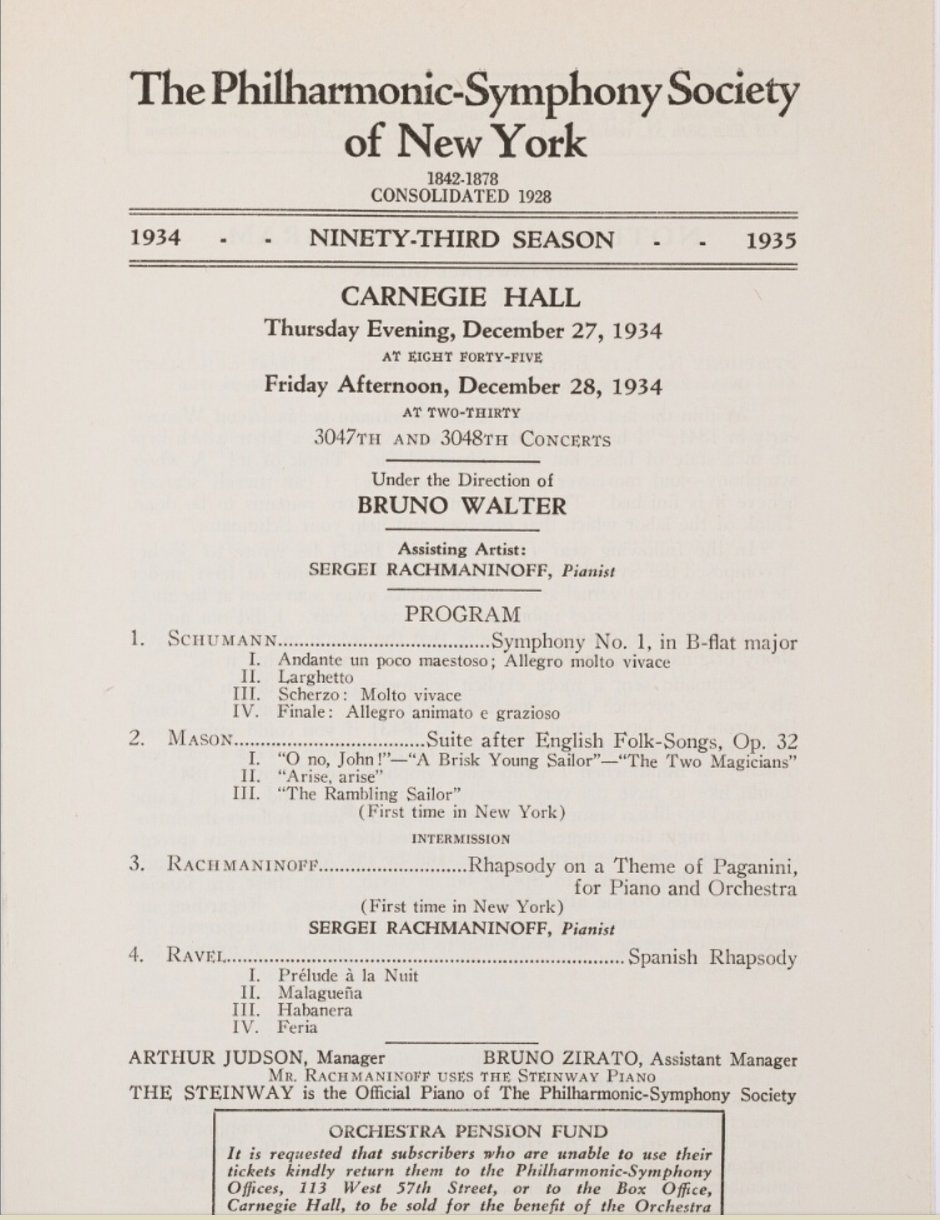 What struck me, looking at this page, was the place then occupied by each work in its own little 'reception history' trajectory…
Think of Schumann's First Symphony (1841). At the time of our concert, this work — subtitled 'Spring', though not on that wintry occasion — was almost a century old, and seems to have been as much a part of the mainstream repertoire as it is today. (A quick BBC Genome search shows that BBC radio broadcast it seven times between 1935 and 1940.)
Rather newer, back in 1934, was Ravel's Rapsodie espagnole (1908). So far as  I know, it entered the repertoire quickly, and has been there ever since; by the time of our concert, Ravel was viewed around the world as France's greatest living composer. Since Ravel actually had a Basque mother, he possessed some Spanish heritage (if you think of Basque as Spanish…), so there's slightly less of a 'foreign holiday' aspect to this piece than there is to many 'Span-ish' works from composers born north of that border. Myself, I can't help wondering what the New Yorkers' first trumpeter made of the horrifyingly low F natural Ravel wrote in the Habanera — a note which actually requires the player to make the instrument's sounding length as long as possible by yanking out the tuning slide and valve slides as far as they will go… (If memory serves, Ravel did the same thing in Daphnis and Chloe.)
As for Rachmaninoff's Rhapsody on a Theme of Paganini — yet another work that remains a favourite with today's audiences! — this was pretty much brand new: having only been completed the previous August, it was less than five months old on the day of our concert. What's more, it had been premiered as recently as November 7 — and had been recorded(!) by Rachmaninoff himself and Leopold Stokowski over in New Jersey on December 24, just three days before our concert. I've never come across any recording of the December 27 performance under Bruno Walter, but we can all hear what happened on that Christmas Eve recording the Monday before…
And then there's Daniel Gregory Mason's 1934 Suite After English Folk-Songs — a work which, every bit as new-born as the Rachmaninoff, seems not to have survived all that long in the harsh and unforgiving arena of concert-giving and audience interest…
To be honest, I'd no idea the work existed; and, indeed, when I got up this morning, Daniel Gregory Mason's name was known to me purely as the author of an old book on Beethoven's string quartets that I speed-read in a university library a couple of decades ago. (I seem to remember that he was particularly impressed with the Op. 59 quartets — which, to me, makes him an okay guy, so just back off, all right…?.)
Anyway, thanks to YouTube we can now all experience this seemingly extinct work — and in a performance under Bruno Walter, too. This recording (apparently a radio broadcast, as you'll hear) seems to date from 1939 — which makes me think that old Walter, at least, thought the piece was worth keeping on life-support by way of a performance now and then. Good old Bruno.
Sorry; just a minute… I'm getting a spooky message… What's that? I can hardly hear you… Try harder to come through: you're too faint! No, don't bother with the ectoplasm: it's old hat and it upsets the kitten. Yes… Keep going… 'Two whole aisles'…? No? What? 'Two whole pieces … with foreign folk-idioms in them'… I got that… 'Cultural change'… Yes…? And something about 'despair', as well…? 'Three foreign-born composers out of four'… But you're not, what…? 'Racist … xenophobe'…? And some problem about 'No notice or consultation…'? And this is something about a concert…?
Ah, no: sorry. You've got the wrong house, mate. You don't want me at all: it's the people next door… That's right: number 86… It's the one with the wheelie bin blocking the pavement… Yes, always… Look, mate: when you contact them, make sure you do a good bit of knocking first — yes, all the interior surfaces — and then try the 'direct materialisation of a physical body part' thing: they'll love it… Oh, yes, guaranteed… Me…? No. Thanks all the same, but I've got some old English tunes to listen to… Cheers, now…!
MD
—
If you've enjoyed reading this or another posting, please consider making an anonymised micro-donation in return! Micro-donation — 50p, 50c, whatever — is the way to sponsor the creation of quality content outside the control of corporate-owned and power-serving media structures. To micro-donate to me, with guaranteed anonymity, simply click on the button… Thanks!